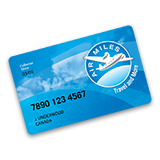 AIR MILES
Introducing AIR MILES® CASH
95 REWARD MILES = $10 OFF** AT CHECKOUT - Activate Today!
Find out how to get rewarded for shopping smart
When you shop for essentials at Rexall, you'll earn 1 AIR MILES® reward mile for every $15 you spend cumulatively during each one week period (Sunday to Saturday)*. And that's just the start. With exclusive Bonus Offers every week, you'll have even more opportunities to earn extra reward miles.
Think of what you would like the most. Whether it's something nice for your home, your car, or a night out with friends, whatever it is, you're sure to find it. Need some help deciding? Why not visit airmiles.ca to find the perfect reward for you.
*Offer valid at Participating Rexall and Rexall Pharma Plus locations only in the Province of Ontario, excluding the Region of Thunder Bay. Stores in the region of Thunder Bay do not offer AIR MILES reward miles. AIR MILES Base and Bonus offers exclude prescriptions, products containing codeine, postal service stamps, Gift Card Express, lottery, transit tickets, phone cards, event tickets and taxes.
** All Rewards offered are subject to the Terms and Conditions of the AIR MILES Reward Program, are subject to change and may be withdrawn without notice. To redeem for Travel and/or Merchandise Rewards, you must have accumulated sufficient AIR MILES reward miles in your Dream Balance. Some restrictions may apply. Quantities may be limited. Collectors must pay taxes, fuel surcharges and other applicable charges and fees on air, hotel and car rental Rewards. Travel Rewards may be subject to a minimum advance booking and availability from participating Suppliers. No cancellations, exchange or refunds for tickets, certificates or merchandise once booked or ordered. For complete details, visit airmiles.ca or call the AIR MILES Customer Care Centre at 1-888-AIR MILES (in Toronto (416) 226-5171).
®™ Trademarks of AIR MILES International Trading B.V. Used under license by LoyaltyOne, Inc. Rexall™ is a registered trademark of Rexall Brands Corp, and Pharma Plus® is a registered trademark of Pharma Plus Drugmarts Ltd, members of the Katz Group of Companies.
*** Some exclusions apply. See airmiles.ca/cash for details. Coin image copyright Canadian Mint