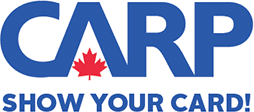 Advocacy, Benefits and Community for older Canadians with CARP
For the first time in history, Canadian seniors outnumber children; with 5.9 million Canadians over the age of 65, compared to only 5.8 million Canadians under the age of 14.**
Rexall's commitment to helping Canadian families and communities to live and be healthier has never been stronger. It is a commitment, that continues to guide us as we look to the future and increase access to convenient, high-quality health care services and products for Canadians. That's why at Rexall, we are proud to announce our new partnership with the CARP (formerly known as the Canadian Association of Retired Persons).
CARP is Canada's largest advocacy association for aging Canadians As a non-partisan association, CARP is committed to working with all parties in government to advocate for better financial security and improved health care for all Canadians, CARP has over 300,000 members across Canada.
Starting December 12th, CARP members will save 20% on all regular-priced Rexall exclusive private brands, every day, without blackout dates. This exclusive discount is valid towards over 2,000 products at all Rexall and Rexall Pharma Plus stores across Canada.
In addition to this fantastic benefit, here are some key reasons why you should join CARP today.
1. Advocacy
CARP's advocacy efforts typically include media campaigns, public speaking, and making a direct approach to elected officials on issues that are of significant importance to our members. To support these efforts, CARP members can engage in polls and petitions, email their elected representatives, connect with local chapters and share stories and opinions on urgent issues. CARP membership support has a strong record of effecting change in government policies and protecting the dignity of older Canadians.
2. Benefits
CARP Members are also rewarded with discounts on over thousands of everyday products and services they know and love from CARP's trusted partners. CARP members enjoy 100+ benefits and discounts in healthcare, lifestyle, travelling and much more. 

3. Community
Looking to get involved at a local level? Join a Chapter in your area and get involved.
Join today or call 1.833.211.2277.
**Statistics Canada 2016 census (May 2017)