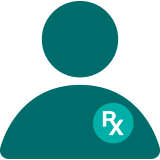 The Pharmacist
Your front line health care provider for prescriptions, services, and programs
Your Rexall Pharmacist – There for you!
At Rexall we know getting to see your family doctor may not be an easy task, which makes your pharmacist the most accessible member of your family's health care team. Your Rexall pharmacist does more than fill prescriptions; a pharmacists' scope of practice allows them to do so much more.
What You See
For every prescription, your Rexall Pharmacist will:
Accurately prepare your prescription and keep a record of it in the dispensary computer system
Provide an opportunity for you to sit down one-on-one to help identify and resolve common medication-related issues so you can get the most benefit from your medication.
Supply written information when appropriate or requested.
Review your prescription with you, explaining what it's for, how and when to take it, what side effects to watch for, how to know if your medication is working, and what actions to take if it is not.
Follow up with you to assess your medication's effectiveness
Conduct training for special devices such as blood glucose and blood pressure monitors
Co-ordinate special clinic days focusing on Diabetes, Heart Health, Cholesterol, and more
Train you to administer your injection medications.
Recommend and administer appropriate vaccinations.
What You Don't See
Your Rexall Pharmacist also:
Reviews your prescription for appropriateness and contacts the prescribing doctor with any questions or concerns
Collaborates with your doctor on changes in medication, dose, or length of therapy if required
Maintains a computerized medication profile and checks new medications for interactions with food and other drugs, using state-of-the-art technology to free up time to spend with you
Checks to see if new prescriptions may affect any existing medical conditions you have – if you are seeing more than one physician, each one may not have your complete medical history
Discusses alternatives with your physician if the medication prescribed is not covered by your drug benefit plan
Provides other services as needed to ensure you get the maximum benefit from your medications
Continuously learns about new medications, new uses for currently available medications, and other health information to ensure you receive the most accurate, up-to-date information.
Did You Know?
Your Rexall Pharmacist can:
Package your medications to make them easier to take regularly and at the correct times each day
Provide private consultations to review your medications for effectiveness, side effects, and possible interactions
Make special preparations or compounds of various medications
Supply you with a program to help you stop smoking
Conduct private training on how to use various health monitoring or treatment devices
Supply information about herbal preparations and their uses
Make presentations on various health-related topics to schools or community groups.
In some provinces pharmacists can adapt and renew prescriptions and initiate treatment for certain conditions.
Specially certified pharmacists can, where allowed by law, provide injections and vaccinations
But that's not all...
Speak to a member of the Pharmacy team today to find out what other services are available from your Rexall pharmacist.