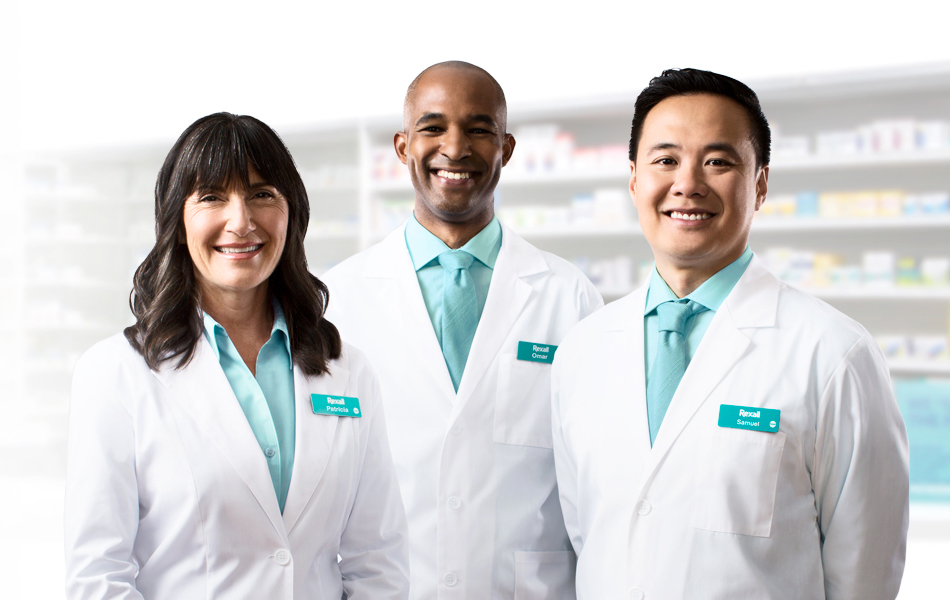 My Rexall Pharmacist
Start a conversation with your Rexall Pharmacist
Your Rexall Pharmacist does more than fill prescriptions.
At Rexall, you will have access to our pharmacy services and medication management tools.
Pharmacy Services
Blood Glucose Meter Training
Blood Pressure Tracking
Administering Flu Shots & Other Vaccines
Medications Take Back
Certified Diabetes Educator Pharmacists*
Travel Vaccines*
Health Clinics
Medication Management
Helpful Reminders
Customized for You
Easy to Use
Ideal For Caregivers
Renew Prescriptions
Rexall Reminders
Rexall Expiry Alert (Anaphylactic Medications)
Online Prescriptions Refills
Medication Reviews
For every prescription, your Rexall Pharmacist will:
Accurately prepare your prescription
Review your prescription and side effects to watch for through a personal consultation
Review your personalized medication history to help you stay on track of your medications
Follow up with you to assess your medication's effectiveness
Provide training for devices (such as inhalers, blood glucose meters)
Your Rexall Pharmacist can support you by:
Collaborating with your physician on changes in medication, dose, or length of therapy, if required
Discussing alternatives with your physician, if the medication prescribed is not covered by your drug benefit plan
Making special preparations or compounds of various medications
Supply information about herbal preparations and their uses
Providing you with Naloxone take-home kits
Making caregiving simpler with individualized programs designed for the specific needs of your loved ones. Caregiving can be challenging, Rexall can help.
* Service available at select locations. Ask your Rexall Pharmacist for more details.